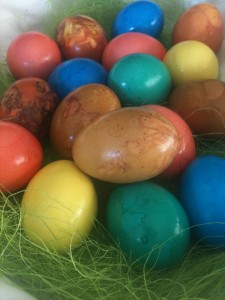 I'm very fond of Easter as a holiday.  It involves none of the frenetic nature of Christmas, the gifts are easy; a chocolate egg or a chocolate egg and (usually) the weather is milder and of course days longer.   As a child I always dreaded the boredom of Good Friday when absolutely everything shut down in this country and yet today, having now experienced many 'shops open' Good Fridays, I yearn for the ones of my childhood.  I don't know anyone who wouldn't enjoy the simplicity of a seemingly endless day with absolutely no distractions.
While this new multicultural and multi ethnic Ireland has forever closed the door on how we celebrated Easter in the past, I have definitely noticed a general shift back to simplicity.  Our values have, without a doubt, changed in recent years due in part to the slump in the economy.  Jobs are more precious than ever and while we still have a love affair with technology, I think we now understand that it can complicate our lives as much as it creates efficiency.  We all realise the advantages of a simpler life today and while in the past we pretended by giving it fancy names like 'going green' or having a 'social conscience' I'm not sure if we really wanted simplicity at all.  Today more and more people do.  The trouble is that now we are in the middle of this unholy mess of stuff and clutter, tangible and intangible, we are suddenly aware that it is much harder to remove things and activities from our lives than it is to add them.  Such a theory can be applied to kitchen utensils as much as it can to our personal relationships. 
This returning and yearning for all things simple is very good news for food, particularly the smaller independent operator within the food sector.  People are willing to go the extra mile because finally they once again put a value on the 'little guy' who grows his vegetables, rears his animals, makes his cheese or bakes his bread to sell on the local market.  His (or her) aim is to earn a good living and achieve a balanced quality lifestyle rather than the overarching and all consuming ambition of becoming a global captain of industry.  While the latter has great monetary rewards it can carry a great deal of personal sacrifice.  Finally we are putting a value on the independent grower or the person who is striving to make a difference.  In this time where jobs are indeed precious I think we like to support a business of that nature. It is a win win for the customer also, as usually one farm, one person or one business is dedicated to creating a quality product or products.  We like to support local, but even our definition of 'local' has broadened beyond a geographical boundary.  The new 'local' is really about a spirit of independence and entrepreneurship and that much shorter and healthier chain from maker to market and being 'local' to somewhere in the country.
There is another emerging trend that really takes us back to the days of our grandparents and that is buying less, but shopping more often.  Rather than filling trolleys and making the one marathon trip to the supermarket each week, we are rediscovering the butcher, the baker and the cheese maker.  Hurray, at last!  We are finally putting a little more value on what we put into our stomachs and the pool of knowledge and personal service available in smaller independent shops and market places.  While we are all watching our pennies, we can see the merit in buying fresh meat, enjoying quality cheese or speciality breads.  They might be considered luxuries in some quarters, but they are luxuries we can still afford.  People also seem to be more interested in a chat too.  It was always important at our shop, but once again people have time for a bit of light hearted banter and a smile – it is a very good thing indeed.  While the chat is inevitably a boost to our mental health we are also keen to keep our general health in check.  We are more aware than ever before just how much our diet contributes to our overall wellness and so we are concerned with nutrition and the make up of our food.  We have, thankfully, moved away from the 'fat is bad' to becoming a more educated bunch and realising that some fat is not only good for us but necessary to keep us alive, young looking and well.
We are also embracing cooking and crafting like never before. The gender boundaries are down and with so many cooking and food 'apps' for new technology we are increasing the appetite for such daily.  I hear people talking about pickling and making jams, preserves and sauces like never before.  Without even noticing we are slowly returning to the pastimes of our forefathers, but spinning them in a thoroughly modern way by learning from new media such as You Tube, twitter and face book.  It's all quite fascinating.  I think it was Solomon who said, "There is nothing new under the sun" and I'm beginning to think he might have had a point.  Enjoy the Easter festivities and let's celebrate our return to great food, shopping locally and a simpler way life.  Happy Easter.
We hope you enjoyed reading this post by Pat Whelan of James Whelan Butchers. Pat is a 5th generation butcher, cook book author and the director of  James Whelan Butchers with shops in Clonmel, the Avoca Food Market Monkstown and Avoca Rathcoole. Sign up to our newsletter for more updates from James Whelan Butchers
Tags: Avoca Irish Butcher, Easter 2015, Easter in Ireland, Holy Week 2015, James Whelan Butchers, Pat Whelan, The Nationalist