The stretch in the evenings, the early morning sunshine, a carpet of colour in the fields; spring has sprinkled its magic everywhere.  The minute the clocks go forward it heralds the promise of all things outdoors.  Suddenly those lonely looking tables outside urban coffee shops are spilling over with people and life and not just those battling the elements in order to get a nicotine hit.
Just like the way the evenings seem to have shrugged off the darkness, we get to shed a little as well.  The concern for the coat, the gloves and the scarves are gone.  Lighter clothes and shoes are called for, bare arms and legs start to make little appearances; there are always a few with the shorts and t-shirts to hand in order to test the temperature for the rest of us.
Even if it's not quite time to clean off the grills, these brighter evenings call for a slightly lighter touch in the kitchen.  While the weather is always better when Easter falls later, it can also inform the Easter Sunday lunch menu.  My own personal view is to keep it simple.  In my opinion keeping it simple is one of the greatest life lessons.  Just keep it simple and apply that to everything in life, including the kitchen.  For example a good quality, flavoursome piece of meat and the freshest vegetables you can find are often all you need to have them cheering in the aisles.  The difficulty is that somewhere along the line simplicity was traded for the smoke and mirrors antics of the celebrity chef.    The idea that some things can never be reproduced in a domestic kitchen to any great degree of competency is nonsense.
I love lamb at this time of year.  I know it's traditional, but it just conjures spring in the taste buds.  However traditional needn't mean boring or samey.  For example this Easter why not try a rack of lamb rather than a leg of lamb?  This is something that is often seen as only perfected by the professional.  The key to this is buying the best lamb you can get your hands on and then following the traditional rules of cooking it.  With a little preparation, the meat itself and the oven do all the work!  The same theory applies to the accompaniments.  Two excellently chosen sides will trump quantity or variety any day.
So why are people so afraid of rack of lamb?  I suppose it is considered quite a luxurious dish, probably stemming from the fact that it is the most tender part of the lamb and therefore considered quite exclusive. It also has quite a regal look about it and that's why sometimes you see those little paper hats covering the ribs.  Preparing the rack involves cleaning the fat of those 'sticky out' bones, (this technique is called 'frenching') however, if you go to a good butcher they will do that for you.  I would suggest three to four cutlets per person.
Take your time when preparing the lamb.  I like to coat it in a little oil mixture that I make using olive oil, chopped fresh rosemary, two garlic cloves (chopped) and a pinch of mustard powder.  I lightly coat the rack with this mixture and then I heat some oil in an oven proof pan and sear the meat.  Do not put the meat into the pan until it is good and hot and then be very careful not to let it burn.  It will only take approximately 2 minutes on each side to sear.  Do not leave it go past 3 minutes or you could be in trouble.   Once it is seared, wipe any excess fat from the meat, cover the bone tips with a little tinfoil to stop them going black during cooking and put the meat, bone side down onto an oven proof dish ready for the preheated oven.  You could, if you wanted to, roll the whole piece in breadcrumbs at this point, but that is optional.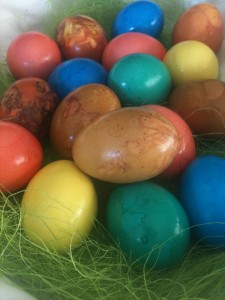 Usually you are trying to achieve a nice brown colour on the outside with a little pink still in the centre of each cutlet.  Have the oven preheated and then the general rule of thumb is 20 minutes for rare and 25 minutes for medium rare; the latter being my preference.   Once again I make the comment about owning a meat thermometer.  It is a foolproof way of checking if the meat is cooked through and no kitchen should be without one.  It should be left to rest for 10 to 20 minutes before carving and for a real sense of theatre, carve at the table!  I prefer to cut and plate up out of sight, but don't let me stop the showman in you.
At James Whelan Butchers we take particular pride in our naturally reared, wholesome Tipperary lamb with its deep red colour and remarkably sweet, grass fed taste.  There are several spring lamb recipes and serving ideas on our website so do check that out also and don't let anyone tell you that a perfect rack of lamb is only achievable in a restaurant.  Try it out this weekend and see if home cooking a rack of lamb is not only delicious but tremendous value too.  The only thing for afters at Easter is a chocolate egg, which couldn't be simpler.  Enjoy the indulgence. Happy Easter.
We hope you enjoyed reading this post by Pat Whelan of James Whelan Butchers. Pat is a 5th generation butcher, cook book author and the director of  James Whelan Butchers with shops in Clonmel, the Avoca Handweavers Rathcoole and Kilmacanogue, Dunnes Stores Cornelscourt, Rathmines and Swords in Dublin. Sign up to our newsletter for more updates from James Whelan Butchers
Tags: Easter, James Whelan Butchers, lamb, Pat Whelan, Rack of Lamb, Spring Lamb